Hunting and Fishing
WAIDMANNSHEIL!
There is no place else where one can easily combine hunting, nature experience and family holidays as with us at the marvelous mountain scenery of the Montafon. Your host and our mountain-experienced hunters will guide you through the hotel-own hunting grounds. The hunting experience is as important as the hunting success. Our grounds are also perfect fo experienced hunters, since our high seats are perfectly located and you can drive up to the grounds.

We can offer the following hunting possibilities
Hunting Possibilities
| | |
| --- | --- |
| Prices for: | from |
| Blackcock | € 1.500,00 |
| Chamois | € 1.500,00 |
| Red Deer | € 1.500,00 |
| Roe Deer | € 500,00 |
Important Information
In order to go hunting, you will need a hunting card. We kindly ask you to send us your valid hunting card (copy of all pages) and an original passport picture so that we can prepare a card for you prior to your hunting trip. We will charge EUR 60,00 incl. insurance.

The trophies of your shot game will have to remain with the respective hunting leader until the obligatory trophy exhibition is over. The sending of trophies or the pick-up of those is subject to the hunter himself (at his own expense and risk).

The cooking and bleaching of the trophy will be undertaken by the hunter for the hunting guest - surcharge of EUR 30,00 - 50,00 appiels.
The hunter's stalk charge is included in our price, if you stay with us. Otherwise, we will charge EUR 50,00 per day (a maximum of 3 days will be charged).

For welded-on pieces, the hunter is allowed to give the finishing shot.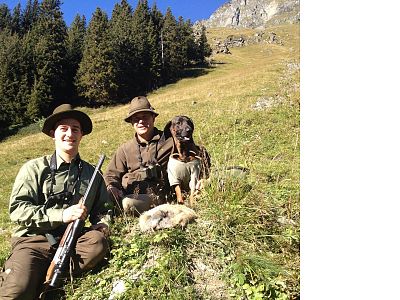 Our hunting grounds are approx. 1400 ha large, located on 700 - 2000 metres in altitude - during winter season you can accompany our hunters for feeding sessions. The ascent is undertaken with a snowcat - an adventure for the entire family! For guests who do not wish to walk, there is a small hunting hut where we all come together for a few comfortable hours.

No matter if we are deer-stalking, on the high seat or during feeding - you can always accompany us.


PETRI HEIL!
Relax and enjoy the peace and quiet - embedded into a fascinating mountain scenery the water reservoirs Lünersee, Kops und Silvretta are located, which invite you to enjoy an unforgettable fishing adventure. The fishing ticket for the region Montafon can be purchased right at the Hotel.